Sustainable Gift Guide for Beach Babes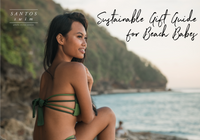 Continuing our Sustainable Gift Guide series, today we are focusing on gifts for all of our beach babes out there! Featuring conscious #ProductsWeLove, we hope to help you discover other companies that are creating sustainable products, giving back and making a difference.
When it comes to swimwear, going to the beach is the first place on our minds. We are beach babes at heart and this list was an easy one to pull together! Spending long days in the ocean and napping on the sand, every beach babe needs to bring a few essentials along. While we've already covered basics like water bottles and Stasher bags in our traveler showcase, these next few items are sure to make your beach days even better!
Fair Seas Supply Co. The Kona  - $48
Fair Seas Supply Co. sources organic cotton from Turkey's Aegean region, known for extra long fibers, resulting in durable and long-lasting towels.
 The importance of organic cotton is that it's grown pesticide + insecticide-free and uses less water than traditional cotton. Their classic, beachy designs will never go out of style and will get softer with each wash. The Kona was created in collaboration with 
Elana Jadallah of 
@elanaloo
 and will virtually transport you to a tropical paradise. This is a must have in every beach bag!
Santos Swim Ubud Bandeau Set - $148
Inspired by the jungles of Bali, the Ubud Bandeau Top features our limited edition Lush Green color and can be worn 3 ways: crisscrossed, tied or strapless. The Ubud Brazilian Bottom is ruched for an ultra-flattering fit and the Brazilian cut guarantees to maximize your tan! A percentage from each suit sold is also donated to
Healthy Seas
, the environmental initiative focused on keeping our oceans clean by retrieving abandoned fishing nets to be made into
ECONYL® regenerated nylon
.
SurfScripts.org SunShade 30 - $15
Sunscreen is meant to block harmful UV rays and protect our skin from damage. However, coral reefs are suffering due to toxic ingredients such as oxybenzone and octinoxate which ultimately lead to coral bleaching. SurfScripts.org's SunShade 30 is reef-safe, non-nanoparticle and made from 100% natural ingredients that you can actually pronounce! This 2oz travel size container is made from PCR (post-consumer recycled) plastic and perfect to carry with you for the impromptu beach day!  Use code: BEACHBABES15 to receive 15% off any Surfscripts.org products until 12/31/19!
Buero Fishnet Flyer Frisbee - $12
Frisbee is a classic beach game perfect for passing the time, yet most frisbees are made of virgin plastic - not this one! Buero has created an innovative material called NetPlus made from recycled fishing nets sourced from fisheries in South America. Through meaningful partnerships, Buero has expanded beyond their original vision of skateboards into a wide range of projects using NetPlus materials, including their Fishnet Flyer Frisbee. These products are helping to keep fishing nets out of our oceans and educating communities along the way!
Indosole ESSNTLS Slides - $50
Over one billion tires end up in landfills each year with a slim chance of ever decomposing. However this ultra-tough material makes for incredibly durable shoe soles! Indosole's ESSNTLS slides have just that, made out of recycled tires sourced from Indonesia and designed to go on every adventure. With natural rubber + vegan uppers, these stylish and comfy slides were basically made for beach days! By diverting tires from landfills and repurposing them into functional products, Indosole is changing the narrative for tire pollution throughout Indonesia. 
Check out our other Sustainable Gift Guides to discover more gifts that you can feel good about giving! ~Santos Swim Team
Disclaimer: Santos Swim is not an affiliate of the companies mentioned in this post and does not receive any financial compensation for purchases made through the above links. We truly believe in these products and are recommending them based on our own opinion. 
Leave a comment (all fields required)
Comments will be approved before showing up.