Sustainable Gift Guide for Festival Lovers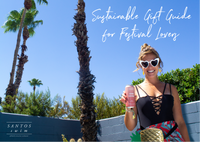 While our Sustainable Gift Guides are created during the holidays, they can be used all year long when deciding on eco-friendly presents for friends and family! Featuring conscious #ProductsWeLove, we hope to help you discover other companies that are creating sustainable products, giving back and making a difference.
Music festivals bring people from all around the world together for a weekend of fun, disconnected from the "real world" and immersed in a joyful dancing bliss. Festival lovers will travel across countries to see their favorite artists perform together and they have a list of must-haves to bring along. We've found the perfect eco-friendly festival essentials to really up their game.
Happy Ears "Recycled Eco-Friendly Earplugs  - $14.50
More than 1 BILLION single-use earplugs are purchased and tossed each year. Any veteran festival-goer will tell you that earplugs are their saving grace. Whether you're looking to get up front for your favorite set or trying to get some much-needed sleep in a noisy campsite, these are a festival must-have. Happy Ears, a Swedish company, created these reusable earplugs out of recycled plastic and bioplastics. They reduce noise by 25 decibels and come with a case to easily stash in your bag.
Santos Swim Seminyak One Piece - $118
From pool party to dance floor, this is the ultimate versatile piece to add to a festival wardrobe. The Seminyak One Piece can be worn as a bodysuit layered with shorts, skirts, kimonos, sarongs, pants, you name it - making the perfect festival outfit from day to night. It comes in three colorways and features criss-cross details + a scoop back. 
Made with 78% ECONYL® regenerated nylon, it repurposes what was once waste into a beautiful, functional design. 
Thesparkleffect Sparkle Necklace - $9
One thing that is synonymous with music festivals is glitter! But what happens after the festival ends? Most glitter is made up of microplastics and will never go away, even when it's out of our sight. Thesparkleffect has created gorgeous biodegradable glitter
that you can feel good about shining in. They offer a variety of color blends, all m
ade from 
plant cellulose. 
The Sparkle Necklace is 100% recycled cotton and keeps your eco-friendly glitter close to your heart in a glass jar sealed with a cork.
Powertraveller Solar Adventurer Portable Charger - $89
While phone service is never the best at music festivals, our phones have now replaced our cameras, maps, alarm clocks and pretty much everything else at this point. It's crucial to have a backup power source, so why not harness some solar power while camping? This external charger gives you the option to either charge via solar power or using the built-in battery at night. It can charge phones, speakers, headlamps, GPS and much more!
Dot Menstrual Cup   - $34
Sometimes timing doesn't quite work out and you're stuck on your period during the festival weekend. Not the end of the world, but if you've ever had to change a pad or tampon in a porta-potty on Day 3 of a festival, this is for you! Dot menstrual cups can be worn for up to 12 hours, which means more time dancing and less time waiting in the bathroom lines. They are made of medical-grade silicone and will replace single-use menstrual products for up to 10 years! Also, for every Dot cup purchase made another Dot cup is donated to a girl in need.
Check out our other Sustainable Gift Guides to discover more gifts that you can feel good about giving! ~Santos Swim Team
Disclaimer: Santos Swim is not an affiliate of the companies mentioned in this post and does not receive any financial compensation for purchases made through the above links. We truly believe in these products and are recommending them based on our own opinion. 
Leave a comment (all fields required)
Comments will be approved before showing up.