A Letter from the Designer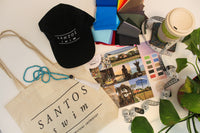 Just The Beginning
Santos Swim has been my dream company for the past 4 years and last year we finally got to see it come to life! It is still such a surreal feeling, seeing suits that I've sketched and had pinned to my wall for years, now out in the wild; being lived in, taken on adventures and empowering the women who wear them. The journey to get to this point wasn't easy and neither is the path ahead, but I'm looking forward to the new challenges that 2020 will bring. 


Thank you to everyone who has supported this beautiful dream so far: To our manufacturing partners who helped us execute this vision from the sampling process to final production. To the talented models, stylists, photographers and videographers who've captured the essence of Santos Swim with each shoot. To everyone who likes, comments and shares our posts, spreading the word about our small business. To every person who has purchased a shirt, hat, tote or swimsuit to represent Santos Swim in the world. To all the local businesses that have opened up their doors for collaborations, pop-ups and events. And to all our friends and family for cheering us on through it all. 


You are each a part of this globally-conscious community and we have so much more to share with you! Building a sustainable fashion brand meaning constantly finding ways to improve your business without taking the easy way out. In 2020 we will be focusing on providing more transparency along this journey, ways to further reduce carbon emissions, hosting more clean-ups + community events, bringing together other sustainable brands, revamping our referral program and integrating customer feedback - just to name a few! I'll also be busy designing our next collection, any guesses on where it will be inspired by? 

Leave a comment (all fields required)
Comments will be approved before showing up.