Interview with Santos Swim Designer ~ Hannah McDermott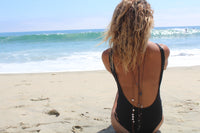 Beauty exists everywhere, and life should not be lived in fear of the unfamiliar but instead in a constant state of curiosity about the world around us. Through our designs, we aim to highlight this beauty and share it with others. —Hannah McDermott 

 
Meet SoCal's Hannah McDermott, Swimsuit Designer & World Traveler for the Globally-Conscious Brand, Santos Swim
Hannah McDermott is the Designer + Creative Director of Santos Swim, a globally-conscious brand that uses fabric made from recycled fishing nets to create gorgeous and vibrant swimwear inspired by world travels. She's a Southern California native with San Clemente roots. Growing up with the beach in her backyard, the ocean holds a special place in her heart. To this day, Hannah carries a swimsuit with her wherever she goes (if she's not already wearing one), and her whereabouts never land far from a shoreline. Hannah's travels have taken her around the world, and in each destination, she's discovered inspiration and beauty in the color palettes, patterns, and ambience unique to each landscape and culture. Hannah founded Santos Swim with the desire to share these magical corners of the earth with others by giving them a tangible piece that delivers a sense of the lived experience in each of these places. The brand aims to inspire people to travel and explore the world mindfully and sustainably.
We had the opportunity to get the scoop on Santos Swim, Hannah's vision for the brand, and what it is that she's creating for the world through her work.
Tell us about Santos Swim. What's your goal as a designer? What inspires you and how does that inspiration show up in your art?
Santos Swim has a global goal to create beautifully designed pieces that will last the test of time, while being kind to our environment and showcasing destinations from around the world. In this time of high political tensions where we are faced with the perpetuation of xenophobia, it is important to share each other's cultures and embrace our differences instead of being fearful of them. Each Santos Swim collection pulls inspiration from travels to other cities, countries, and continents. Beauty exists everywhere, and life should not be lived in fear of the unfamiliar but instead in a constant state of curiosity about the world around us. Through our designs, we aim to highlight this beauty and share it with others.
What led you to develop such a commitment to offering eco-friendly and sustainable swimwear?
Once you are aware of things like the fast-fashion epidemic or the massive amount of ocean pollution, you can't turn a blind eye to it. Santos Swim makes conscious decisions to use recycled and sustainable materials in each aspect of our business, from the fabric to the final packaging. As a designer, my focus is to create an array of cuts and styles that are timeless. This design approach alone allows our swimwear to be more eco-friendly, as we create pieces that can be worn season after season – they do not just conform to current trends.
What goes on behind the scenes? What are you doing when you're not creating?
Behind the scenes at Santos Swim, you'll find me researching materials, drawing up new concepts for designs, pulling together our social media feeds, writing content for our blog (such as travel guides for various destinations), gathering feedback through fittings of our samples, working with our manufacturers to perfect the suits, and planning for our first launch! When I'm not working on Santos Swim I am outdoors, paddle-boarding, attending music events, browsing art galleries, traveling to new places (both local and international), taking photos, playing at the park with my dog Blu and eating Mexican food (tacos are my favorite)!
What's happening currently for Santos Swim?
We are working on finalizing the pieces for our first collection: the Bali collection, inspired by the beautiful Indonesian island. We are excited to present our very first collection in a way that best represents what our brand believes. We anticipate a late spring/early summer launch.
Hannah approaches her work with passion and purpose. Santos Swim creates far more than swimwear; the pieces represent a commitment to sustainable living, and beyond their tangible form, they inspire us to explore the world, to cultivate a global community, to develop a relationship with the earth, and to consider how we might share ourselves and give back wherever we are in space and time.
Subscribe to the Santos Swim email list at the bottom of the page for launch updates! 
Click here for the full article on www.MyArt4Therapy.com
 
Leave a comment (all fields required)
Comments will be approved before showing up.