February 2019 ~ Free Calendar Download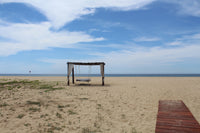 January may have felt like the longest month ever, but lucky for us the shortest month of the year is here! Make the most of these next few weeks by using our free PDF printable calendar.

Santos Swim's calendar highlights important dates, provides a section for your notes and poses a monthly environmental challenge to encourage long-lasting sustainable habits. A new calendar is released each month and we hope to inspire your wanderlust with photos of #PlacesWeLove. This month features a photo from our last trip to Todos Santos, México - hint: find these magical beach beds in our travel guide.
Enjoy and keep an eye out for exciting new changes coming soon!

Click the image below to download your free pdf calendar:
Leave a comment (all fields required)
Comments will be approved before showing up.