FinalStraw - #ProductsWeLove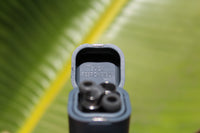 #ProductsWeLove: Each month we highlight some eco-friendly #ProductsWeLove from companies that care about our planet and our well-being. Through these features we hope to provide useful recommendations for sustainable products that can be used in your daily life.
Continuing our #ProductsWeLove series, we are highlighting an exciting new way to #SuckResponsibly. By that we mean a new way to keep plastic out of our mouths and out of our oceans. It's called FinalStraw.
Recently, you may have heard about various cities, states and corporations moving towards banning single-use plastic straws. This has been met with its fair share of criticism and support. Some people have physical limitations which require them to use straws and plastic is the most durable single-use option. Straws may also prevent germs from spreading in cases of improperly cleaned cup rims. Even so, we can no longer ignore the growing amount plastic pollution as one 2017 study estimated that somewhere around 8.3 billion plastic straws pollute beaches worldwide. While straws are not physically required for most people, we are creatures of convenience and once we become accustomed to a luxury it becomes hard to let it go.
Regardless of which side you support, the straw itself is not the problem; the "single-use" and "plastic" aspects are. Wouldn't it be great if there was an eco-friendly alternative that gives you the convenience of a single-use straw without any of the negative consequences? Now there is and it's called FinalStraw! This company tackles all of these problems and delivers a beautifully-packaged, compact solution. Here's the breakdown: a collapsible, stainless steel straw lined with medical grade silicone in a 100% recycled High Density Polyethylene (HDPE) keychain case that includes a squeegee and drying rack.
The idea of a reusable straw is not a new one. They have been hitting the market for years and are primarily made out of materials such as bamboo, glass or stainless steel. While these are all viable options, the main challenge with these variations lies in the transportation of the straw. Not everyone brings a purse, backpack or briefcase that could hold their reusable straw when visiting restaurants or bars, which means they would need to carry it in their pocket or a straw-shaped case. FinalStraw is collapsible and the small case easily fits on your keychain, meaning you will never leave the house without it!
In looking at the photos of FinalStraw, you might be asking "if plastic is so bad, then why is the case made of plastic?" FinalStraw's case is actually made from a specific plastic called High Density Polyethylene (HDPE) which is manufactured from recycled post-consumer material. HDPE is considered an eco-friendly material because it does not give off any harmful fumes into the environment and it can be recycled at the end of its useful life. It is also exceptionally durable and only requires minimal energy to produce compared to manufacturing steel from iron ore. As the name states, FinalStraw wants to be the last straw you will ever purchase and it's built to last a lifetime.
FinalStraw is available in your choice of 5 different case colors, with the option to upgrade to a rainbow colored straw. It costs $24.50 plus shipping, which may seem steep at first glance, but each beverage you consume is an opportunity to use your FinalStraw and to keep single-use plastic out of our oceans! They also include a warranty with each purchase and will provide a repair, replacement or refund in instances of faulty product. By eliminating small single-use items like plastic straws from our daily routine, we can begin to make more mindful decisions in all aspects of our lives.
Check out their website to purchase: www.finalstraw.com and follow them on Instagram: @_finalstraw_ FinalStraw is a member of 1% for the Planet and annually donate to non-profits in the network.
Santos Swim's suits are crafted using fabric primarily spun from recovered ghost fishing nets and recycled plastic, so we are always happy to support other companies working towards clean oceans! 
We can't wait to share more #ProductsWeLove with you!
- Santos Swim -
Disclaimer: Santos Swim is not an affiliate of the company mentioned in this post and does not receive any financial compensation for purchases made through the above links. We truly believe in these products and are recommending them based on our own opinion. 
Leave a comment (all fields required)
Comments will be approved before showing up.