April 2019 ~ Free Calendar Download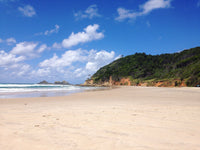 Spring is in full bloom and as we gear up for warmer weather, we reprioritize our to-do list to squeeze in those extra hours in the sun. Download Santos Swim's free April calendar to stay on top of things!
Santos Swim's calendar highlights important dates, provides a section for your notes and poses a monthly environmental challenge to encourage long-lasting sustainable habits. A new calendar will be released each month and we hope to inspire your wanderlust with photos of #PlacesWeLove. This month features our photo from Broken Head in New South Wales, Australia.
Leave a comment (all fields required)
Comments will be approved before showing up.