What does it mean to be a globally-conscious brand?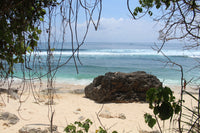 You've heard of green, sustainable and eco-friendly companies, but at Santos Swim we describe ourselves as a globally-conscious swimwear brand. What does that mean to us? We're happy to share that with you!
Being a globally-conscious company means that we are aware of and actively seeking to improve not only environmental issues, but also a broader scale of social, economical, political and social justice issues. We strive to educate ourselves in the current global situation, understand the impacts around the world and do our part to maximize our positive contributions. You may be thinking, how can a swimwear brand impact the world as a whole?
Let's start with our commitment to the environment: our swimwear's fabric is partially generated from recovered ghost fishing nets, as well as industrial plastic from landfills and discarded fabric scraps. The decision to use a sustainable fabric came from knowing that the fashion industry is one of the top polluting industries in the world. Seems like a weird thing to say, but think about where a majority of old clothes go: into a landfill! Instead of spinning all new fabric, Santos Swim's suits are crafted from 78% regenerated nylon resulting in less new fabric generated in the "fashion loop" and cleaner oceans for us to all enjoy!
There are also social and economical factors to consider when running a fashion brand. This includes paying fair wages and guaranteeing safe working conditions. We strongly believe that you cannot be satisfied manufacturing a product if someone else suffers because of it. All of our production partners are all held to the highest standard for working conditions and fair wages, resulting in beautiful products that are made with love.
In terms of political and social justice issues, we will never shy away from standing up for what is right and lending a helping hand. We believe if you have a voice, you should use it to speak up for what you believe in, whether that is clean coastlines or clean water rights. We have big plans for the future of Santos Swim partnerships and we can't wait to get everyone involved!
We are now on our final run of samples before our first Santos Swim collection is ready for production. Make sure you're signed up for our email list below to be the first to know when the pre-sale begins in 2019! We are thankful for you following along on this journey with us and are excited to share our vision with you.
Leave a comment (all fields required)
Comments will be approved before showing up.