GreenUP Box - #ProductsWeLove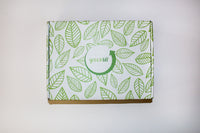 Each month we will highlight some eco-friendly #ProductsWeLove from companies that care about our planet and our well-being. Through these features we hope to provide useful recommendations for sustainable products that can be used in your daily life. To kick things off we are introducing a new, easy path towards a plastic-free lifestyle.
In a world of unlimited options it is often overwhelming trying to find eco-friendly products to replace our dependance on plastic. However, making small changes in our every day routines can make an impactful difference on our footprint. Cue, GreenUP Box! GreenUP Box is a monthly subscription in which you receive a box of sustainable products each month to conquer your plastic dependence in various areas of your life.

For example, their first box was The Market Box: tackling our trips to the store by providing alternatives to plastic shopping bags, produce bags, take-away cups and straws. By replacing these single use items with reusable ones: canvas tote bags, cotton mesh produce bags, bamboo coffee mugs and bamboo straws, now trips to the store can be plastic free! Some of their other boxes include The Work Day Box (providing alternatives to plastic lunch-related items) and The Morning Routine Box (including bamboo toothbrushes giving back to various charities). Little by little GreenUP Box helps you reduce plastic usage in these specific areas of your life, before you know it you're on your way to #plasticfree life!
One of the reasons we love the concept of GreenUP Box is their product selection. There are plenty of eco-friendly products out there and as a consumer it is very overwhelming to decide which products are worth your money. GreenUP Box does the work for you, providing 4 to 6 eco-friendly products per month, with a total product value exceeding the subscription cost. Each hand-picked product goes with the theme of that month's box, but if you decide you want to skip a month or opt out, you can do so at any time before the billing date!
Another reason we support GreenUP Box is because they donate 3% of profits to charities working to clean up plastic from our oceans. Santos Swim's suits are crafted using fabric spun from recovered ghost fishing nets and recycled plastic, so we are always happy to support other companies working towards clean oceans! 
Check out their website for more info: www.greenupbox.com and give them a follow on Instagram: @greenup_box

We can't wait to share more #ProductsWeLove with you!
-Santos Swim


Disclaimer: Santos Swim is not an affiliate of the company mentioned in this post and does not receive any financial compensation for purchases made through the above links. We truly believe in these products and are recommending them based on our own opinion. 
Leave a comment (all fields required)
Comments will be approved before showing up.