October 2019 ~ Calendar Download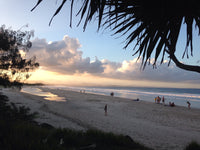 It's officially October! This month brings us to the beginning of Q4, with three months left to achieve our goals to close out 2019. Stay motivated this month and keep up your good habits. You've got this! 
Santos Swim's calendar highlights key dates, provides a section for your notes and poses a monthly environmental challenge to encourage long-lasting sustainable habits. A new calendar will be released each month and we hope to inspire your wanderlust with photos of #PlacesWeLove. This month features our photo from the beautiful beaches of Byron Bay, Australia.

Click the photo below to download your free pdf calendar:
Leave a comment (all fields required)
Comments will be approved before showing up.