May 2019 ~ Free Calendar Download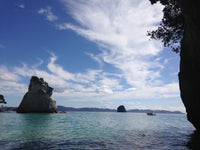 We kick off May with International Workers' Day, a day celebrating the working class and laborers around the world. Other highlights this month include: Bike to Work Day, World Turtle Day and World Biodiversity Day. Don't forget tacos on Cinco de Mayo and flowers on Mother's Day. Download Santos Swim's free May calendar below and never miss a date!
Santos Swim's calendar highlights important dates, provides a section for your notes and poses a monthly environmental challenge to encourage long-lasting sustainable habits. A new calendar will be released each month and we hope to inspire your wanderlust with photos of #PlacesWeLove. This month features our photo from Te Whanganui-A-Hei Marine Reserve on the Coromandel Peninsula of New Zealand. 


Click the photo below to download your free pdf calendar:

To save: right/control click on the pdf image, click "save as" and save to your desktop. You can print it or use it as a desktop background. Enjoy!
Leave a comment (all fields required)
Comments will be approved before showing up.