August 2019 ~ Calendar Download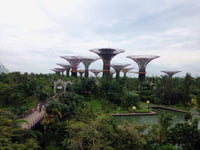 August has arrived and summer is in full swing here in California! We have another pop-up event planned for this month at Juneshine Ranch here in San Diego - our favorite hard kombucha brewery. We will be participating in an Eco-Market alongside other local brands with a portion of total proceeds donated to Changing Tides Foundation. More details to follow & it's already marked on your calendar!
Santos Swim's calendar highlights key dates, provides a section for your notes and poses a monthly environmental challenge to encourage long-lasting sustainable habits. A new calendar will be released each month and we hope to inspire your wanderlust with photos of #PlacesWeLove. This month features our photo from the beautiful Gardens By The Bay in Singapore.
Click the photo below to download your free pdf calendar:
To save: right/control-click on the pdf image, click "save as" and save to your desktop. You can print it or use it as a desktop background. Enjoy!
Leave a comment (all fields required)
Comments will be approved before showing up.