Sustainable Gift Guide For Travelers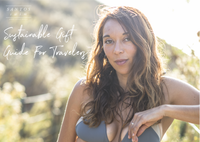 This holiday season we're highlighting some incredible companies out there that are creating eco-friendly gifts, manufacturing ethically and giving back. We have pulled together a series of Sustainable Gift Guides tailored to various passions and featuring conscious #ProductsWeLove. 
This is for the travelers. Whether it's a last-minute snowboarding trip or a backpacking trip through South East Asia, they're constantly on the move. Here are a few of our top eco-friendly picks to accompany them on their adventures:
Pela Limited Edition Reef Case  - $42.95
Pela created the world's first 100% compostable, no-compromises phone case. It offers the perfect durable protection for the traveler on the go, without using any plastic. This limited edition Reef case also donates a portion of proceeds to protecting our ocean's reefs.
Santos Swim Canggu Reversible Triangle Set - $125
When you're always on the go packing light is essential, so why pack four bikinis when you can pack one? This reversible triangle set gives you four color combos, without taking up precious backpack space. The ideal travel companion for the girl on the go!
STRW Co Portable Bamboo Cutlery Set - $15
When you're on the road, you end up eating out - a lot. With this beautiful bamboo set, you'll be able to skip the single-use utensils and quit plastic straws for good! The foldable carrying case keeps everything together and ready for your next meal on the road.
Stasher Sandwich Bag 2-Pack - $21.99
Frequent travelers are no strangers to flight delays, long layovers and other inconvenient situations. They know it's always a good idea to keep some snacks on you for when a 3-hour flight turns into a 7-hour ordeal. Since plastic ziplock bags have worn out their welcome and tupperware is too bulky to travel with, Stasher bags are the perfect solution! These 100% silicone bags are BPA-free, dishwasher-safe and will easily slip into your carry-on.
Keep an eye out for the rest of our 2019 Sustainable Gift Guides to discover more gifts that you can feel good about giving! ~Santos Swim Team
Disclaimer: Santos Swim is not an affiliate of the companies mentioned in this post and does not receive any financial compensation for purchases made through the above links. We truly believe in these products and are recommending them based on our own opinion. 
Leave a comment (all fields required)
Comments will be approved before showing up.