Sustainable Gift Guide for the Yogi in Your Life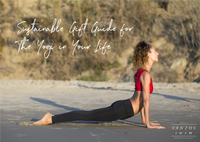 The holiday season has arrived and with it the stress of finding perfect gifts for the special people in our lives. It's hard not to get swept up in the wave of consumerism that quite literally consumes our society during the "happiest time of the year". But there is some good news! There are plenty of amazing companies out there that are creating eco-friendly gifts, manufacturing ethically and giving back. We have pulled together a series of Sustainable Gift Guides tailored to various passions and featuring conscious #ProductsWeLove. 
First up we have the Sustainable Gift Guide for the yogi in your life! During their practice, yogis are in tune with their bodies to flow through asanas. Just as with our bodies, we should be conscious of the materials that are put into the other very few items used in yoga practice. Here are some eco-friendly gift ideas to accent their practice:
 Suga Yoga Mat - $79
Made 100% from recycled wetsuits, these USA-manufactured yoga mats are super soft, durable and recyclable! Yes, they can also be returned at the end of their usable life to be turned into more mats! Suga is also a member of 1% For The Planet, meaning they contribute at least one percent of their annual sales to environmental causes.
Santos Swim Uluwatu Crop Top - $68
While any of our suits may be worn during yoga practice, our number one choice is the Uluwatu Crop Top. This is mainly because of the sporty cut with removable padding and circular back cutout that gives much-appreciated airflow during intense hot yoga sessions. Made with 78% ECONYL® regenerated nylon from recovered ghost fishing nets, carpet scraps + other nylon waste, you can feel good about sweating it out. A percentage from each purchase is donated to Healthy Seas environmental initiative to further the recovery of ghost fishing nets in our oceans.
Yoloha Cork Block - $24
Blocks are a valuable tool in yoga practice, as they can help modify positions and improve alignment. However many yoga blocks are made of foam and not the most eco-friendly option. This family-run company, Yoloha, makes their blocks using sustainably sourced cork from farms in Portugal. They are sturdy and non-slip, with rounded edges for extra comfort.
Slowtide Haven Yoga Towel - $59.95
Yoga towels are used to soak up sweat and improve grip on your mat. They can also serve as an ideal travel-sized item when bringing your mat along isn't an option. Slowtide yoga towels are made from 100% recycled materials, primarily plastic bottles and they meet the strict guidelines set by the Oeko-Tex® Standard 100. The fun prints, portability and sustainability aspects all make this yoga towel a winner!
Keep an eye out for the rest of our 2019 Sustainable Gift Guides to discover more gifts that you can feel good about giving! ~Santos Swim Team
Disclaimer: Santos Swim is not an affiliate of the companies mentioned in this post and does not receive any financial compensation for purchases made through the above links. We truly believe in these products and are recommending them based on our own opinion. 
Leave a comment (all fields required)
Comments will be approved before showing up.