Summer Kickoff Beach Cleanup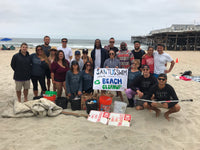 On June 15th, 2019 we hosted our first beach cleanup in Pacific Beach, San Diego. We had 30 amazing volunteers come together to gather 20lbs of trash! Through I Love A Clean San Diego's Adopt-A-Beach program, we were able to borrow Zero Waste cleanup supplies including buckets, grabbers and reusable gloves. Some volunteers also brought their own containers and reusable gloves from home.

Each group recorded their trash findings on tally cards to better understand where the majority of trash is coming from. Some of our totals for the day were: 
330 small plastic pieces
188 cigarette butts 
132 small pieces of styrofoam
92 food wrappers
73 assorted paper pieces
46 bottle caps
35 straws/stirrers
33 plastic bags
25 metal bottle caps/can pulls
21 beverage cans
20 balloons/ribbons/confetti
19 styrofoam food containers/cups/plates
15 plastic bottles
12 glass bottles
12 bandaids
10 pieces of glass
9 plastic toys
4 shoes
5 items of clothing/towels/blankets
1 syringe (disposed of properly with the lifeguards)
1 piece of a scooter
1 metal parking sign (disposed of properly with the lifeguards)
As you can see, the smallest pieces of trash end up being the most prevalent. We were all shocked at how much waste was collected in a short two hour time period. The group that brought the most trash in collected almost 7lbs between three of them and were rewarded with a Santos Swim merch pack! 

Following the cleanup, volunteers headed up the street to Pueblo for a delicious lunch and drink specials. We want to thank everyone involved for such a great turnout for our first beach cleanup! We're looking forward to the next one! 

If you would like to be notified for all future events, Santos Swim news, etc. please sign-up for alerts.
Leave a comment (all fields required)
Comments will be approved before showing up.