San Diego Locals Gift Guide - Part 2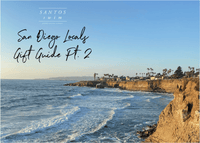 Continuing our Sustainable Gift Guide series for 2020, we want to dedicate this guide to more of our favorite products by San Diego small businesses. The best part is you don't have to be a San Diego local to support these incredible brands! Through our gift guides we highlight conscious #ProductsWeLove and hope to help you discover companies that are creating sustainable products, giving back and making a difference.


ADJUSTABLE YOGA MAT STRAP  - ARAWAYUU
Vibrant and colorful, Arawayuu's gorgeous handcrafted products will brighten your day! Empowering Colombian women artisans of the Wayuu tribe, each piece is woven by hand and tells the artisan's story through unique patterns + motifs. One of our favorites is the adjustable yoga mat strap, lightweight and eye-catching it's is perfect way to transport your yoga mat in style. Plus, currently 10% of each sale is donated to deliver food baskets to the artisans' families in response to the COVID-19 pandemic. Support brands that give back!


DRESS - LUNA WILD COLLECTION
Looking for a one-of-a-kind piece with an incredible story? Look no further than Luna Wild Collection's beautiful offerings of dresses, kimonos, jackets + tops made from upcycled Indian saris. Each piece is handmade in India, providing jobs to victims of sex trafficking in Mumbai. The magic dresses in this collection can be worn multiple ways and sure to let your inner goddess shine! Inventory changes quickly, so follow Luna Wild Collection on Instagram to shop their sales and pop-ups.


RUG - CASA BRIXE
Ethical home decor can be challenging to find, but in a sea of imitations comes Casa Brixe. This socially-conscious company is run by a San Diego couple working with female artisans in Oaxaca, México to bring you beautiful handmade wool rugs. These rugs are made in small batches from locally-sourced wool using traditional looms. Your purchase directly supports these artisans and Casa Brixe also donates 5% of each sale to a charity of the artisans' choice. Gift a piece that will bring a little bit of Mexican culture into their home!


BOOGIE PLANTS
For the plant lover in your life, who also likes to boogie...these hanging disco planters are the ultimate combo! Boogie Plants were born with a mission to keep the disco going from day to night. These made-to-order planters also come with a custom macramé hanger that will instantly upgrade any space. With sizes ranging from 5" to 12", you can choose one that fits your room's vibe. Oh, did we mention these come with drainage holes? Every plant parent's dream!


DIAMANTE OPEN FRONT PONCHO - MAR Y LANA
Mar y Lana translates to Sea and Wool, connecting our beachy communities with their beautiful handcrafted goods from Colombia's best-known artisans. By telling the story of the artisans and traditional methods used, Mar y Lana fosters a special appreciation for the quality and craftsmanship of their products. Through their slow fashion approach, Mar y Lana's ponchos not only support indigenous Colombian communities, but also help to preserve and showcase their traditional art of textile weaving. With both adult and kids sizing, you can find conscious, long-lasting pieces for the whole family!
-Shop Now-
LIVE CONSCIOUSLY TANK - SANTOS SWIM
Serving as a daily reminder to live consciously, this everyday staple is made of 100% organic cotton and seamlessly fits into any wardrobe. Living up to its mantra, both low-impact dyes + inks are used and it's ethically produced here in the USA. Each tank purchase provides 100 meals to families in need via donations to Feeding America, the nation's largest domestic hunger-relief organization. Give a gift that keeps on giving!
-Shop Now-
If you enjoyed this guide, forward it to a friend! Have a local brand that we missed? Leave a comment below! Be sure to check out our other Sustainable Gift Guides to discover more gifts that you can feel good about giving! ~Santos Swim Team
Disclaimer: Santos Swim does not receive any financial compensation for donations made through the above links. We truly believe in these brands and are recommending them based on our own opinion. 
Leave a comment (all fields required)
Comments will be approved before showing up.