Giving Tuesday 2020 Guide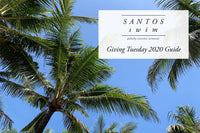 Happy Giving Tuesday! Today we are kicking off our Sustainable Gift Guide series for 2020 by highlighting organizations that are doing meaningful work in our community and beyond. Through our gift guides we highlight conscious #ProductsWeLove and hope to help you discover companies that are creating sustainable products, giving back and making a difference.


I LOVE A CLEAN SAN DIEGO - SAN DIEGO, CA 
I Love A Clean San Diego is an environmental nonprofit on a Zero Waste and pollution free mission for communities throughout San Diego County. They have been around for over 65 years, fostering a litter-free, zero waste, and environmentally engaged San Diego region. We have hosted many beach cleanups through their Adopt-A-Beach program, borrowing zero-waste supplies and submitting trash collection data. Your donation will help fund the Adopt-A-Beach program, K-12 environmental education programs, Kids Ocean Day and Community Volunteer Clean-ups and more! 
Nonprofit 501(c)(3) Tax ID: 95-2566791
DEDE MCCLURE BAIL FUND - SAN DIEGO, CA
The DeDe McClure Bail Fund is a San Diego-based grassroots group fighting to prevent incarceration and combating racial and economic disparities in the bail system. Bail funds help provide cash bail for those who can't afford to post it themselves, then when the trial is complete that bail money is returned to the fund and can be used for someone else. The Dede McClure Bail Fund also connects people with resources and attorneys, sees them through their court date and works to support the local San Diego Community. Your donation will go directly to the bail fund to help with these efforts!
WAVES FOR WATER - LOS ANGELES, CA
Waves For Water wants to provide access to clean water, for everyone that needs it. Their motto is "do what you love and help along the way" and that is embodied in their Guerrilla Humanitarianism approach. They see out and work with individuals in their own communities to spearhead the efforts to bring clean water access. They offer three major solutions: rainwater-harvesting systems, construction/restoration of bore-hole wells, and implementation of portable water filtration systems. Your donation to can go to the general Waves For Water fund, Well Restoration or a number of other individual projects including disaster relief.
501c3 Charitable Organization Federal Tax ID #27-1319189
HOUSE OF RESILIENCE - SAN DIEGO, CA
The House of Resilience is San Diego's FIRST 100% FREE community housing program for transgender women of color. Food, shelter, clothes and various resources— all provided for free. A few months ago House of Resilience organized a clothing drive to offer a free shopping day for LGBTQ+ in need and styled over 80 shoppers! This is just the beginning and your donation will help House of Resilience continue to support the LGBTQ+ community in San Diego. 
FEEDING AMERICA - CHICAGO, IL
Feeding America is a nationwide network of more than 200 food banks that feed millions of Americans each year through food pantries, soup kitchens, shelters, and other community-based agencies. In the wake of the COVID-19 pandemic, unemployment has soared and food insecurity has been on the rise with an estimated 54 million people in the US who may face hunger this year. Your donation will help provide meals for families in need.
- Donate Today -



HEALTHY SEAS - KATWIJK AAN ZEE, NETHERLANDS
We are proud partners of Healthy Seas, an organization dedicated to ridding the oceans of marine debris and giving it a new life. This movement towards a circular economy is crucial as we continue to battle the global waste crisis. Nylon nets recovered by Healthy Seas volunteer divers are transformed into ECONYL® regenerated nylon and used in products like our suits! 1% of each Santos Swim purchase is donated to Healthy Seas and your donation today will directly help their efforts of ocean clean-ups, wildlife rescues, educational programs and more!
- Donate Today -
Check out our other Sustainable Gift Guides to discover more gifts that you can feel good about giving! ~Santos Swim Team
Disclaimer: Santos Swim does not receive any financial compensation for donations made through the above links. We truly believe in these organizations and are recommending them based on our own opinion. 
Leave a comment (all fields required)
Comments will be approved before showing up.