Sea Color Inspo + Phone Wallpaper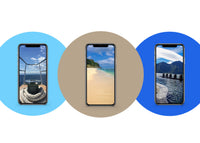 We are getting closer to revealing our first collection! This next color palette is inspired by the sea. From the shimmering Bali Sea to secluded beaches on the Bukit Peninsula to magical lakeside hot springs, the colors of Bali come alive around the water.
The lightest blues emerge dancing atop the horizon and in the ocean beneath you, as you cruise on the bow of the boat from one island to the next.
After hiking down a neverending path in the humid heat, you are rewarded with an empty beach all to yourself - your own private paradise.
Driving for hours exploring new locations across the island, you stumble upon healing hot springs, leaving you rejuvenated after soaking in the picturesque mountain view. These little moments make up the sea color palette, sharing their magic with you.
Enjoy these free iPhone and Galaxy wallpaper downloads, featuring our photos from Bali that inspired the sea color palette! 
Instructions:
Click an image below to open the wallpaper download. Save the image to your phone, in your photos select image, choose "set as wallpaper" and reposition accordingly. These backgrounds are set for iPhone X screens or Galaxy S9+ but can easily be cropped for any screen size.
iPhone Wallpaper Downloads:
Galaxy S9+ Wallpaper Downloads
Leave a comment (all fields required)
Comments will be approved before showing up.